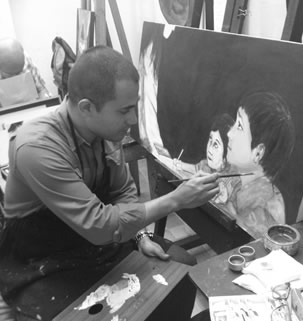 Henry Colorado is from Medellin-Colombia. He took courses in Archaeology Materials Science from Materials Science at University of California, Los Angeles; and training in oil painting and other techniques with Painter Dorian Florez in Colombia.
Henry got a PhD and MS in Materials Science (2013) from the University of California, Los Angeles;  and MS and BS in Mechanical Engineer from Universidad Nacional de Colombia, Medellin. Henry is currently a Faculty member of Enginnering at Universidad de Antioquia (Medellin, Colombia).
With this interests, Henry is now working in developing several lines of Arts-Science: exploring new materials in arts, doing research of ancient and cultural materials, and bringing arts to engineering. In 2016 Henry has been Section Chair in the "Art and cultural heritage symposium": Materials Science and Technology Conference, Salt Lake City, USA. Henry presented Art-Sci works in this Conference.